Physics Teaching Resources

Physics is one of the most interesting subjects in the sciences, and it makes up the bulk of the content of this site. Almost all the material on this site can be incorporated into a physics curriculum, either as core material or as supplemental material.
It has been a main goal of this website to teach physics at a deeper and more fundamental level, and I do this by way of showcasing real-world examples of physics using topics which are by themselves already interesting to many people, such as the
physics of sports.

It is often a challenge for physics teachers to find good resource material for their classes which covers the necessary concepts and is interesting to students. And to add to the challenge a new set of national standards has been introduced in the United States called the Next Generation Science Standards (NGSS), which are designed to improve upon many aspects of the U.S. science curriculum in K-12. The goal of the NGSS is to teach a deeper understanding of science and scientific practice in lieu of rote learning of scientific theory and facts.

When I heard about the NGSS it became immediately clear that much of the content of this website already aligns well with the NGSS, and by tweaking some of the content, as well as creating new content, I can contribute useful, as well as interesting, resource material for teachers to use when incorporating the NGSS into their classes.

On this page I make available resources which high school physics teachers can use. Some of these resources will fit directly with the NGSS, while others will fit well with the general high school physics curriculum, whether it's introductory level physics or advanced level physics (such as Advanced Placement Physics) in which introductory college level physics is taught.


NGSS Physics Examples

To start off, I put together a collection of real-world example problems in physics, which can be given to students as handouts. These example problems address various standards from the NGSS. This download link contains a compressed "zip" file containing these problems. To download it right-click on the link. You need to uncompress this "zip" file before you can access the problems. This file can be uncompressed with several different types of compression software (such as WinZip, which may already be installed on your computer). If you don't have compression software on your computer, or you are unable to uncompress the file with the software you do have, you can use 7-zip compression software, which must be installed on your computer. It can be downloaded for free at: http://www.7-zip.org.

These example problems are in PDF format. You can use Adobe Reader to read them. If Adobe Reader is not installed on your computer you can download it for free here: http://get.adobe.com/reader.


Challenging Physics Problems

Are your students keen on solving challenging problems? Check out the physics questions page which contains many challenging problems that students can try their hand at. It's great for test and exam practice. The problems are at the high school level and above, and answers are provided.


Physics Of Sports

The physics of sports page is a very popular page which covers a lot of physics for a lot of different sports. Feel free to peruse this page for suitable topic ideas which you can use in your physics classes. Encourage your students to look at the different sports and pick out the ones they're interested in. They are guaranteed to be interested in at least one of the sports discussed, which makes this a very useful resource for getting students interested in physics.


MythBusters Physics

The television show Mythbusters is one of the most popular science shows on television, and it uses a lot of physics! I created a 48 page ebook providing a physics discussion and analysis of many myths that are tested on the show.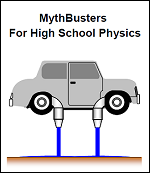 Click here to download a sample of a few of the topics covered in the ebook

This ebook is available as an instant download via PayLoadz and PayPal. It is in PDF format.

You can buy this ebook for $9.95 USD. To purchase, click on the Buy Now button below. This will open another browser window, which will take you to the PayPal site. From there you can enter your purchase information, and then download the ebook.




Support is available if you have any questions about the ebook. You may email me via my contact page. My alternate email address is:

. If possible, write me with the same email address that you entered in the purchase form. This isn't necessary but it just makes it easier for me to confirm that you actually purchased the ebook.


Refund Policy

Since ebooks cannot be returned after purchasing, refunds will be determined on a case by case basis.


Sign up below for my free newsletter and you will receive insightful physics related bonus material. Many topics will be discussed. You will be notified if new physics resource material becomes available. The newsletter is sent about once a month. Easily unsubscribe at any time.






Return from Physics Teaching Resources to Real World Physics Problems home page